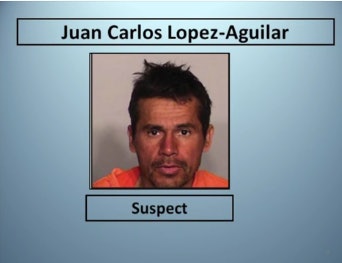 A Metro Police sergeant pleaded with a man to drop a gun, later determined to be fake, several times before shooting him Monday night, according to Metro Police, reports the Las Vegas Sun.
It wasn't until Juan Carlos Lopez-Aguilar pulled a bullet from his pocket and pointed the gun at police that Sgt. William Matchko fired a round, Metro Undersheriff Kevin McMahill said Thursday during a news conference.
Lopez-Aguilar, 42, survived the gunshot wound in his right shoulder, McMahill said.
An investigation later led police to determine that Lopez-Aguilar might have been intent on suicide by cop, according to McMahill.
Police did not shoot until he grabbed what they believed to be a bullet from his pocket, simulated putting it in the gun and pointing the gun at an officer.
Investigators later found the bullet, McMahill said.
Sgt. William Matchko "was trying to do literally everything that he could to not have to pull the trigger that particular day," McMahill said. "In reality at the time that he used deadly force, he felt that he had no other option."
Police said Thursday that Lopez-Aguilar faces charges of assault with a deadly weapon and resisting an officer with a firearm, reports the Associated Press.
Police said state law defining the charges indicate they can apply to the perception of a deadly weapon and firearm, even when the gun turns out to be fake.