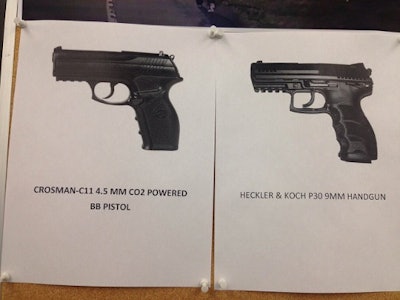 An 18-year-old man was shot and killed Friday night by Roanoke County, VA, police after a series of interactions that ended when police said he turned toward officers with what turned out to be a BB gun in his hand.
Authorities received a 911 call that a black male, wearing a bandana and hoodie and carrying a backpack, was waving a gun in the parking lot, WTVR TV reports.
Kionte DeShaun Spencer, 18, was walking northbound on Electric Road, toward a Walgreens, when police said they asked him to stop. Police said they then twice deployed their Tasers, but neither deployment was effective.
Based on the information they have now, the Roanoke County police chief said Spencer turned toward police, and the two officers then fired shots mortally wounding him. The weapon was still in Spencer's hand when he was shot, according to the preliminary investigation.
The handgun that police recovered at the scene was a BB gun, which police said they were not aware of at that time.