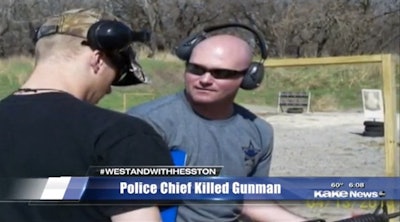 VIDEO: Local Police Chief Hailed as Hero for Killing Kansas Active Shooter
Kansas Gov. Sam Brownback on Friday said that Hesston Police Chief Doug Schroeder shot and killed Excel active shooter Cedric Ford. Schroeder was among the first on the scene and shot and killed Ford as he was being fired upon.
Three people were killed and 14 injured when a gunman opened fire on employees of Excel Industries, a manufacturer of heavy duty lawn care equipment in Hesston, Kansas Thursday, as well as in two other nearby locations, KAKE TV reports.