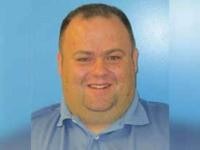 The Park County Sheriff's deputy slid into the Cutthroat Cafe in Bailey, CO, at 7 a.m. Wednesday, just as he did many mornings, to grab a bite before heading to work.
In this loosely woven mountain community of fewer than 10,000 people, the Cutthroat Cafe is one of those institutions that holds the tapestry together. And few threads ran through the community's fabric more than Cpl. Nate Carrigan's.
A 13-year veteran of the Park County sheriff's department, Carrigan also was an assistant coach for the local high school's football team. He was the head coach of the school's baseball team, where he had been the starting catcher as a teen two decades earlier, according to the local newspaper, The Flume.
Wednesday morning Carrigan handed Thomas a black-and-gray Platte Canyon High School ballcap as a thank-you for Thomas' support of the school's sports teams. Then he headed out on the job.
Less than three hours later while serving an eviction notice with the sheriff and six other deputies, including another who coached with him on the football team, Carrigan was shot and killed.
Capt. Mark Hancock and Master Patrol Deputy Kolby Martin were wounded, the Denver Post reports.