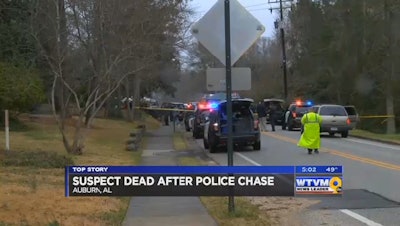 Auburn, AL, police says they responded to the armed robbery of a business around 11:50 a.m. Wednesday.
A vehicle that's description was given to officers as being driven by the suspect was seen leaving the area. A chase began after the suspect refused to stop.
Chief Paul Register, who was on scene with Lee County Sheriff Jay Jones and other law enforcement officials, said the suspect fired shots at law enforcement, and law enforcement fired back.
The pursuit ended at the intersection of Gay Street and Woodfield Drive, with the suspect crashing into another car. Register told WBRC TV the suspect died following a self-inflicted gunshot wound.