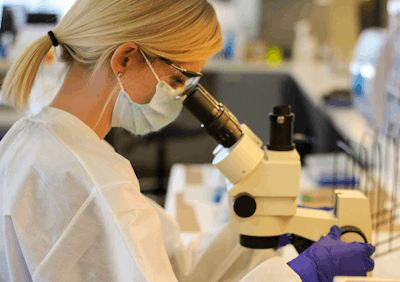 DNA Labs International, a specialist in forensic casework for law enforcement agencies, attorneys, and government forensic labs, announced today that Laura Burgess Marketing (LBM) will be providing public relations and marketing services to extend the brand across all channels. DNA Labs International is built on 30 years of hands-on crime lab experience to obtain the best results for their clients.
"DNA Labs International has been providing DNA analysis through service excellence for over 12 years now and with new products, services and software available now, we were looking for a PR and marketing firm that could help us grow our brand within the law enforcement market," Allison Nunes, the chief operating officer, explained. "We needed a team of PR and marketing pros that could take us to the next level in brand awareness, and we've found that team in LBM."
"The LBM team is very proud to partner with DNA Labs International," said Laura Burgess, president of LBM. "We've been working with companies to grow their exposure within the law enforcement market for a long time now with great success and we are excited to be able to do the same for DNA Labs International. They have a lot of great, useful services and technologies that we think will really appeal to this market and we're looking forward to diving in and spreading the word!"
DNA Labs International offers forensic casework analysis, paternity testing, screening services, and specialized services. The technology that has been made available within the field allows DNA Labs International to obtain results for homicides, rapes, burglaries and cold cases faster and more accurately than ever before. The technologies offered by DNA Labs International include STR DNA Analysis, Y-STR DNA Analysis and mini-STR DNA Analysis. STR DNA Analysis evaluates specific regions (loci) that are found on nuclear DNA to discriminate between one DNA profile or another. Y-STR DNA Analysis test for male DNA only and is often used in sexual assault cases, while mini-STR DNA Analysis is highly recommended for cold case samples and touch/contact DNA.
DNA Labs International now has the capability to screen forensic casework samples with its latest technology, the M-VAC System. This advanced wet-vacuum sampling device improves DNA collection, leading to a stronger DNA profile. The M-VAC System has the potential to dramatically improve surface sampling capabilities in nearly every scenario. It has been successful in many circumstances, especially sampling touch DNA from clothing.
STRmix is an expert software system that is currently available at DNA Labs International. Developed by world leaders in the field, it uses a fully continuous approach for DNA profile interpretation, resolving complex DNA mixtures and inconclusive results due to limited information. With STRmix, DNA Labs International can retest evidence and develop conclusive court admissible results.
LBM will be spearheading all public relations, social media, writer relations, and marketing efforts for DNA Labs International.
For more information, visit DNA Labs International and stay up-to-date on Facebook and LinkedIn.
DNA Labs International is built on 30 years of experience in forensic serology and DNA analysis – from identification of biological fluids to DNA analysis. DNA Labs International is accredited by ANSI-ASQ National Accreditation Board (ANAB), the country's longest established provider of ISO accreditation to forensic sciences testing laboratories in the U.S. www.dnalabsinternational.com