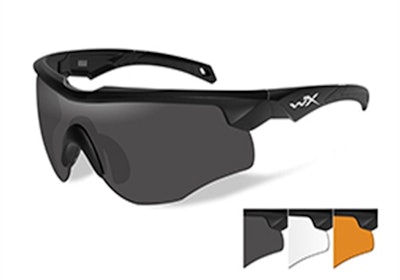 Wiley X, Inc. has announced a new member of its popular Changeable Series eyewear family—the new-for-2016 WX Rogue. This new model has been designed to deliver clear vision, comfortable wear, and protection that makes it well suited for tactical wearers.
The WX Rogue is made to give shooters a clean line of sight and excellent peripheral vision, together with superior coverage and eye protection. All Wiley X Changeable Series glasses are known for their ability to quickly and easily switch lenses, so wearers can always enjoy optimum visual acuity and target acquisition under a wide range of light conditions, backgrounds, and situations.
The WX Rogue is offered in two- or three-lens interchangeable kits featuring Wiley X's T-Shell scratch-resistant and Foil anti-fog coated Selenite polycarbonate lenses. These advanced lenses provide clear, distraction-free vision in the toughest field conditions. The WX Rogue's lightweight matte black half-frame features an adjustable wire core rubberized nose bridge for a secure, comfortable fit.
In keeping with Wiley X's reputation for state-of-the-art vision protection, the new WX Rogue meets stringent ANSI Z87.1 High Velocity and High Mass Impact Safety Standards for OSHA-rated vision protection, as well as U.S. military MIL-PRF-32432 (GL) standards for ballistic eye protection.
Like almost all Wiley X eyewear styles, the new WX Rogue is also Rx-ready using the company's Digiforce digital Rx lens technology.