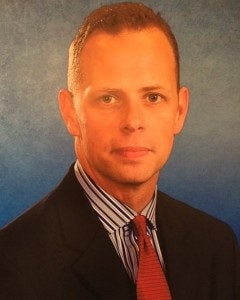 A Seaside, OR, police officer was "legally and morally" justified in killing a transient who fatally shot his patrol partner moments earlier, the Clatsop County District Attorney announced Tuesday, reports the Oregonian.
Phillip Ferry had methamphetamine, marijuana, and alcohol in his system when Seaside Sgt. Jason Goodding and Officer David Davidson tried to arrest him Feb. 5 on a probation violation warrant in downtown Seaside, District Attorney Joshua Marquis said during a morning news conference.
Davidson, a member of the police department since 2012, used a Taser on Ferry after the transient refused to take his hands out of his pockets. The convicted felon repeatedly told the officers before the stun gun was used, "You ain't going to like it," according to Marquis.
As Goodding tried to restrain Ferry on the ground, the transient pulled out a semiautomatic pistol and fired once. The bullet went under the ballistic vest Goodding was wearing. Davidson then fired several times, hitting Ferry three times — in the hand, arm, and buttocks, Marquis said.
The severity of Ferry's injures were not immediately clear because he continued to yell at the officers after Davidson fired on him, Marquis said.
Goodding, 39, and Ferry, 55, died later at separate hospitals. Davidson, 28, was not injured and remains on standard paid administrative leave as of Tuesday.
The vest Goodding was wearing was "not foolproof," Marquis said, and he was hit in an exposed part of his body at close range that made his wound "immediate and fatal."
"Medical intervention could not have saved him, even if he had been within two minutes of Legacy Emanuel or OHSU's trauma center," Marquis said, citing a report from the state medical examiner's office.