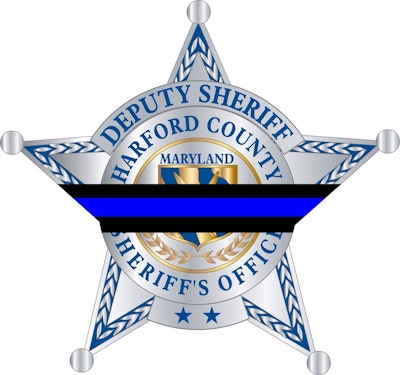 Two Harford County, MD, sheriff's deputies have died after a shooting both inside and near a restaurant in Abingdon late Wednesday morning, the head of the department said.
Sheriff Jeffrey Gahler didn't immediately identify the officers, and asked for "respect and patience during this difficult time for our agency," reports the Baltimore Sun.
He said the officers were veterans of the force, and said the department's prayers are with their families. "There are no words to describe what they're going through right now," Gahler said at a 5:15 p.m. press briefing.
Two additional officers fired weapons at the scene and have been placed on administrative leave, Gahler said outside the Panera Bread restaurant at the Boulevard at Box Hill. It was there, where he said earlier in the day, "We fully suspect that both deputies were shot by the same suspect."
The suspect, who died, was identified as David Brian Evans, 67. There were two warrants for Evans' arrest, Gahler said, one in Florida for assaulting a police officer and fleeing and eluding, and a civil warrant in Harford County.
One deputy was taken to University of Maryland Upper Chesapeake Medical Center in Bel Air. The other was flown to the Maryland Shock Trauma Center in Baltimore.
"Both deputies have succumbed to their injuries," Gahler said at the evening press briefing.
One deputy, with the court services division, was with the Sheriff's Office for 30 years; the other, with the agency for 16 years, was with the community services division.
"Both were two outstanding deputies who served the citizens of this county faithfully for 16 and 30 years, respectively," Gahler said.
The sheriff said he believes the deputy was targeted, saying, "The suspect took that action because he was in a police uniform. He was certainly targeting them."
At a press conference earlier in the day, Sheriff Gahler said deputies were called to a Panera Bread at a busy shopping area in Abingdon at about 11:46 a.m. for reasons that he would not divulge. After entering the restaurant, the deputy was fired on by a gunman and hit.
An additional deputy or deputies followed the gunman to a nearby apartment building. At that location, the second deputy was shot and the gunman was killed.
Gahler speculated that the two shootings occurred not more than 15 minutes apart and called the second shooting a "continuation of events" from the Panera attack.