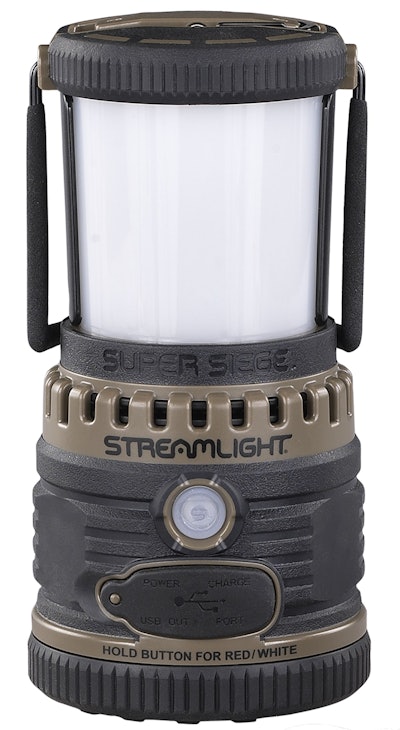 Streamlight Inc., provider of high-performance lighting, introduced the Super Siege, a brilliant 1,100-lumen rechargeable light that is one of the brightest LED lanterns available today. The new model is ideal for large-scale scene lighting required by industrial users, first responders, and outdoor enthusiasts alike.
The Super Siege also functions as an auxiliary USB power source to charge personal electronic devices. Its rechargeable 8800 mAh Lithium Ion battery provides up to four full charges for most smartphones and up to eight full charges for most Streamlight USB-rechargeable flashlights.
"With its ultra-bright lumen output, the Super Siege not only rivals the brightest LED lanterns on the market today, but it is also an extremely versatile lighting tool," said Streamlight Vice President, Sales and Marketing, Michael F. Dineen. "It is ideal for illuminating large areas, whether on the water, at a camp ground, or when working at an industrial site or an accident scene. In addition, its USB port permits users to charge many other portable electronic devices."
The new lantern features one white and four red C4 LEDs to provide six output modes. With its outer globe cover in place, the light functions as a work light for performing jobs at arm's length; a removable Glare Guard can be snapped over part of the globe, enabling users to comfortably illuminate work areas while reducing glare back into their eyes. Without the Glare Guard, the Super Siege is transformed into a scene light, providing 360 degrees of bright light to illuminate large areas. The light can be hung upside down from its top or bottom D ring. It will also float when fully assembled, and includes a hidden watertight storage compartment.
The lantern's white LED features low, medium, and high modes, while the red LEDs provide low, high, and flash SOS settings. Users can easily change the light beam color or output modes by holding the on/off button for short sequences.
With its cover removed, the white C4 LED delivers 1,100 lumens on high, 550 lumens on medium, and 125 lumens on low. The red high setting provides 2.7 lumens, the red low provides 1 lumen, and the Flash SOS setting flashes at "Red high lumen level."
Runtimes for the white LED are 5 hours (high), 10.5 hours (medium), and 35 hours (low); the red LEDs run for 110 hours on high, 288 hours on low and 230 hours in SOS mode. A battery indicator built into the on/off button changes from green to yellow to red, and then to flashing red when the battery is at the end of its useable life.
The Super Siege weighs 1 pound, 14 ounces with a height of 7.5 inches and a base diameter of 3.8 inches. It features high-quality construction, with a casing made from tough polycarbonate thermoplastic with elastomer over mold. It is IPX7 rated for waterproof operation to one meter, and is impact resistance-tested to 2 meters. Its included D-Rings on the top and bottom are spring loaded to fold out of the way when not in use. An ergonomic handle makes the lantern easy to carry.
The Super Siege ships with "Test Me" mode enabled for consumers to experience the functionality at the point of sale. This feature is disabled immediately upon first charge of the unit.
Available in Safety Yellow and Coyote, the Super Siege has an MSRP of $200. The lantern includes Streamlight's Limited Lifetime Warranty.
Based in Eagleville, PA, Streamlight Inc. has more than 40 years of experience making tough, durable, long-lasting flashlights designed to serve the specialized needs of professionals and consumers alike. Since 1973, the company has designed, manufactured, and marketed high-performance flashlights, and today offers a broad array of lights, lanterns, weapon light/laser sighting devices, and scene lighting solutions for professional law enforcement, military, firefighting, industrial, automotive, and outdoor applications. Streamlight is an ISO 9001:2008 certified company. For additional information, call 800-523-7488, visit www.streamlight.com or connect on www.facebook.com/streamlight; www.twitter.com/Streamlight; and www.youtube.com/streamlighttv.