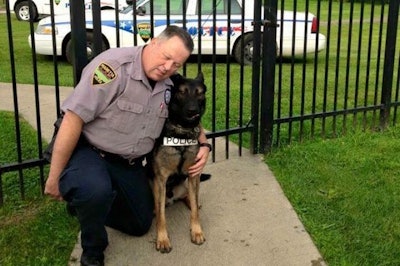 A retired Marietta, OH, police officer says he can't work as a volunteer to keep his police dog Ajax.
Former Officer Matthew Hickey, 57, said on Tuesday that he can't accept a compromise offered by the city that would have had Hickey working as an unpaid auxiliary officer to keep Ajax, and eventually buy the dog from the city for $1 when it is too old to work.
"I retired from there because of my health," Hickey said. He said he hasn't worked since July because he was recovering from neck and shoulder injuries, and that he officially retired in January. He noted that the dog, because Hickey works as its handler, hasn't been used by the police department since he last worked.
Hickey said he offered to pay the city the $3,500 that he had been told the dog is worth. Marietta Law Director Paul Bertram III said the city doesn't want to separate Hickey from the dog, but also said the dog needs to be sold through a sealed bid at auction by law. Bertram couldn't be reached Tuesday night.
An online campaign has raised more than $70,000 to help Hickey buy the dog. Asked if he plans to bid on Ajax, Hickey told the Columbus Dispatch, "of course."