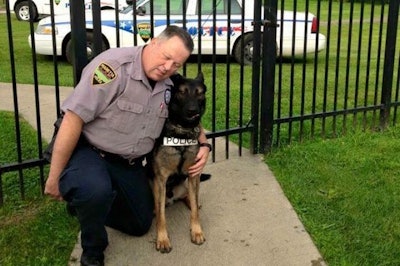 A retired police officer in Ohio will get to keep his K-9 partner if he becomes an auxiliary officer, city officials in Marietta announced, amid fears that the dog would be put up for auction, reports the New York Daily News.
Matthew Hickey's campaign to keep his partner, Ajax, generated more than $65,000 in online donations via a GoFundMe page.
But city officials, speaking at a Monday press conference, said fundraising and social media efforts were unnecessary – and there was already a plan in place for Hickey to keep the dog.
"You could have stopped this train wreck, simply by saying, 'They're working on a solution,'" Marietta Police Chief Rodney Hupp said.
Hickey, who retired last week after more than 30 years as a Marietta police officer, has been a member of the K-9 unit since 1998, and has been teamed with Ajax for the past four years, during which the dog has lived with Hickey's family.
K-9s who are injured or too old to work are offered to their handlers, by law, for $1. But Ajax isn't old enough to retire.
Hickey offered to buy the dog for $3,500 — Ajax's estimated value – when he retired Jan. 25. But that sale wouldn't be legal under Ohio law, and fears emerged that Ajax would be sold at auction.
Hupp said an agreement was reached Thursday that would allow Hickey to serve as an auxiliary officer and keep Ajax, and that Hickey wasn't bound by confidentiality and should have made mention of the city's efforts to the media.
"We both expressed it would be a win-win for everyone: the city, him, the department, and Ajax," said Hupp. "I regarded the matter as being resolved."
Hickey shouted from the audience that the chief was "making up small lies."
Despite the controversy, city officials will still allow Hickey the chance to serve as an auxiliary officer and keep Ajax.
Related: