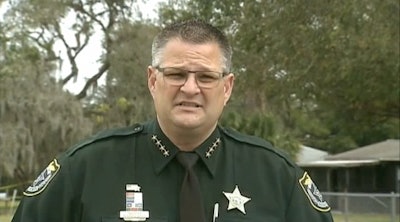 VIDEO: 2 Florida Deputies Hospitalized After Attack by Baton-Wielding Man at Domestic
Two Brevard County, FL, sheriff's deputies were hospitalized Tuesday after they were bludgeoned by a man while investigating a domestic disturbance call, investigators said.
When Deputy Michael Hriciso and Deputy Maria Skinner arrived at a home on Pineapple Avenue in Mims at about 11:25 a.m. Tuesday, they heard a man and woman screaming at each other in the back of the home, Brevard County Sheriff Wayne Ivey said during a press conference.
The man and woman were identified as Courtney Johnson and Skylar Francis, both 22 years old.
"(The deputies) tried to separate the two and as they did, the white male suspect pulled out a collapsible baton and started striking one of our deputies," Ivey said.
Hriciso was struck multiple times, and his injuries were so severe he had to be flown by helicopter to a hospital. Skinner was struck once and hospitalized locally, WFTV reports.
The deputies were able to take the two suspects into custody despite their injuries, Ivey said.