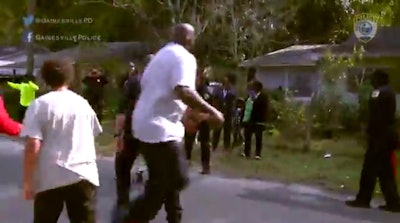 Retired NBA star Shaquille O'Neal made a special trip to Gainesville, FL, to play basketball with a group of kids, more than a week after someone called police to complain they were playing too loudly in the street.
Last week, someone called the Gainesville Police Department to make the complaint.
Officer Bobby White responded and instead of reprimanding the kids, he decided to join in and play with them, WJXT TV reports.
His dash camera was rolling and captured more kids showing up to join in.
"Have fun. Glad to see y'all doing this than out there causing problems," Officer White told the group. "You play here every day? Okay, I'm going to try to bring some back-up out here tomorrow and we'll get a game going."
Shaq heard about the story and wanted to surprise the kids. He wanted it to remain a secret. He traveled to Gainesville and met Officer White and other officers, then they went to the neighborhood to meet the kids.