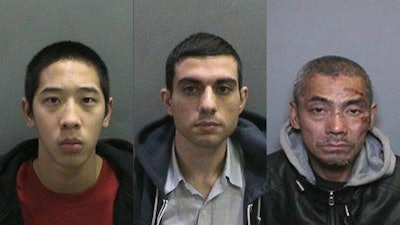 Investigators fanned out across Southern California Monday searching for three inmates who pulled an elaborate escape from the Central Men's Jail in downtown Santa Ana three days ago.
Jonathan Tieu, 20; Bac Duong, 43; and Hossein Nayeri, 37, were discovered to be missing about 9 p.m. after a nightly inmate count at the Orange County Sheriff's Department's maximum security facility. Deputies are still searching for the men, who have not been seen since the escape.
Sheriff's Lt. Jeff Hallock told the Los Angeles Times that authorities are looking throughout the region for the men, who were being held in connection with serious, violent offenses including murder, attempted murder, kidnapping, and torture. A $50,000 reward has been offered for any information on the men's whereabouts.
The men slipped behind beds inside the jail, then disappeared into a hole in a wall before navigating through the jail's plumbing system and cutting through half-inch steel bars.
After making it to the roof, the men rappelled down four stories using spare cloth and bedsheets and fled. The inmates, who were last seen wearing orange jumpsuits, were presumed to be armed. It is unclear whether they received help after breaking free.