Armament Systems and Procedures (ASP) has unveiled the new Ultra Cuff, the first forged rigid frame restraint, according to the company.
The Ultra Cuff incorporates innovative advances in handcuff design that ASP pioneered, including an interchangeable lockset, conical bows, and double-sided keyways.
Added to these design elements is a frame forged from 7075 T6 ordnance grade aluminum and permanently joined 4140 heat-treated spiral locking pins.
The steel model of the Ultra Cuff weighs only 9 ounces while the aluminum is just 7 ounces. Both are full-featured restraints that were specifically designed to "Lighten the Load" of an officer or agent.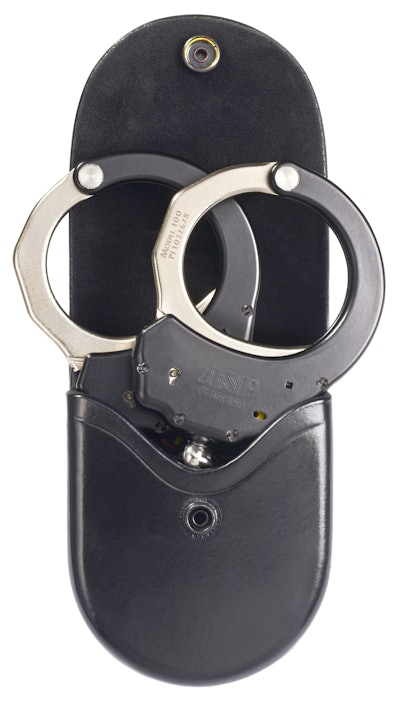 "The Ultra Cuff was designed in the field with input coming from officers in over 100 countries," said ASP Vice President of Sales & Marketing Scott Bechthold. "As a result, the design incorporates the practical features most requested by cops."
The Ultra Cuff's flat height radiused contact bow improves application and helps prevent injury. The frame geometry, deep set teeth, and precision smooth action eliminates the need for back loading.
Like all ASP handcuffs, the Ultra Cuff has a replaceable lock set with high-visibility double-lock indicators. Both the double and single locks are released in a single motion by turning the key in the direction of the bow.
The MSRP for the steel Ultra Cuff is $50 while the MSRP for the aluminum model is $55.
ASP is one of the industry's foremost suppliers of Batons, Restraints, LED Lighting, OC, and Training products. Kevin Parsons, PhD, founded the company in 1976. ASP holds more than 150 product patents and provides almost $2 million in free training each year to law enforcement professionals. ASP is ISO 9001:2008 and 14001:2004 Certified, ANSI FL1 compliant, and a founding member of the Portable Lights American Trade Organization (PLATO). All products are designed in the United States.