VIDEO: Utah Officer Fatally Shot in Head Responding to Accident
A Utah police officer was shot and killed while responding to a traffic accident Sunday, and the suspect reportedly wounded another officer before being fatally shot, reports KSTU.
Salt Lake County Sheriff Jim Winder identified the deceased officer as 44-year-old Douglas Scott Barney, an 18-year veteran of the Unified and Taylorsville police departments and a father of three who worked in the Holladay Precinct.
Barney was responding to a traffic accident around 10:00 a.m., where a man and woman were observed leaving the scene of the crash after fleeing from one of the vehicles involved.
Winder said as Barney approached the pair, the male turned and fired at Barney, striking him in the head. Barney was taken to a hospital, where he later died of his wounds.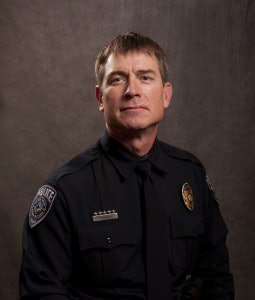 The suspect reportedly shot at other responding officers who confronted him and returned fire. Barney's fellow Unified Police Department officer Jon Richey, 51, was struck three times and was taken to a hospital where he was listed in stable condition, reports KTLA.
The male suspect was killed in the gunfight. He has been identified as 31-year-old Cory Lee Henderson. The female he was with fled the scene, and so far she has only been identified as a white female with blonde hair. She has been called a person of interest.