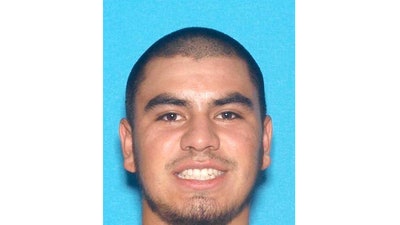 The man wanted on suspicion of kidnapping a 15-year-old Bay Area girl was killed Thursday after a high-speed chase in Santa Barbara County ended in a shootout, California authorities said.
But the search has intensified for Pearl Pinson, who was abducted early Wednesday morning in Vallejo while walking to a school bus and has not been seen or heard from since. The FBI has joined the search effort, officials said late Thursday.
The kidnapping suspect, Fernando Castro, 19, was spotted about 3 p.m. near Los Alamos heading south on the 101 Freeway in a gold Saturn.
During the high-speed chase through Santa Barbara County, Castro at one point drove the wrong way on the freeway and later led authorities off the freeway to a quiet mobile home park in Solvang, about 30 miles northwest of Santa Barbara.
Castro crashed his sedan and shot at deputies after he hopped out of his car, authorities told the Los Angeles Times. One of the deputies returned fire.
He then broke into a mobile home and holed up inside. A woman who lived at the home managed to escape without any injuries. Castro then stole a Toyota Tundra truck from the home and tried to flee.
Castro shot at deputies as they closed in on him, and deputies fired back in a shootout. He was pronounced dead at the scene from multiple gunshot wounds.