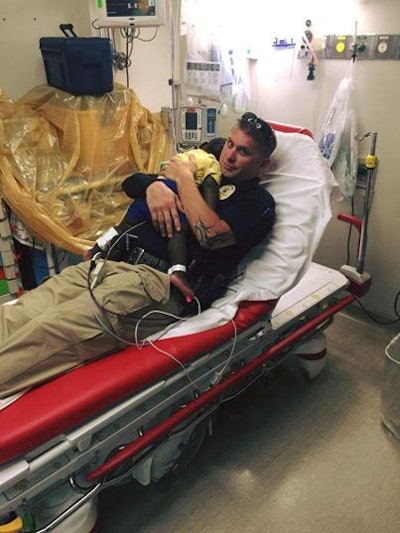 A toddler found wandering a Georgia street alone last week screamed and sobbed while being examined in the hospital emergency room. That was until the scared 16-month-old boy found comfort in the arms of a police officer, reports the Today show.
Officer James Hurst scooped the boy into his arms to comfort him and he quickly fell asleep, snoozing on the officer's chest for nearly an hour. The tender moment was caught in a photo that is drawing heaps of online praise.
Hurst, a father of two who has been a Savannah-Chatham Metro police officer for less than a year, says he was simply doing what felt natural to him. "It had nothing to do with the badge," Hurst told Today. "It had to do with being a human being."
Hurst spent about two hours with the toddler, who slept on him for 40 to 45 minutes, and is in good condition. Police closed the case without filing any charges, a police spokesman said.