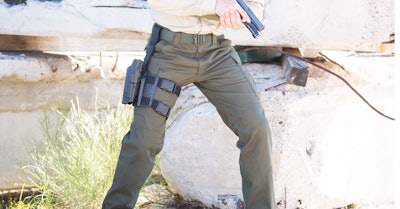 First Tactical Belts are pre-curved for an ergonomic fit and composed of a double layer of reinforced nylon webbing with a HD polymer buckle.
Each belt features a double bar buckle that is built for low profile and a metal-free, airport-friendly wear. Designed to have half the bulkiness of its competitors, the double bar buckle works with First Tactical's flip tab adjustment to facilitate grip for easy cinch and release.
Each style of belt features a twill weave edge which provides smoother feeding through belt loops while five rows of stitching and two layers of rip-resistant HD nylon webbing provide strength for all of your gear.
The belts also feature a small inner pocket, perfect for a cuff key, money, or other compact gear.
Both the Range and BDU Belts come in Black, Coyote, and OD Green with widths of 1.5 inches or 1.75 inches. Both sizes range from small to 4XL. The Range belts sell for $19.99, while the BDU Belts sell for $14.99.
See the full product video on First Tactical's official YouTube page here.
Headquartered in Modesto, California, First Tactical makes functional gear created for professionals. Guided by the principles of innovation and reliability, First Tactical works firsthand with Law Enforcement, Firefighters, and Emergency Medical Personnel to create durable products that meet the needs of public safety. By working directly with real world users and utilizing expertise of high-quality professionals, all of First Tactical's products are put through demanding conditions to ensure they can reliably perform. Learn more about First Tactical's clothing, Advanced Women's Fit, outerwear, accessories, and what's to come at www.FirstTactical.com.