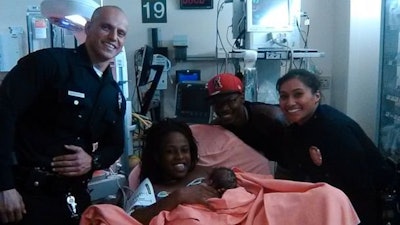 As Sasha Murphy and boyfriend Mohammed Tindley were racing to get to the hospital on time before their baby arrived around 4 a.m. Mother's Day morning, they were pulled over by two LAPD officers who quickly noticed why the couple was speeding through red lights.
Murphy, 20, had just delivered her own baby in the car.
"It was either keep going and get to the hospital and they'll understand when we get there, or pull over and they're going to help us. And that's exactly what we did," Murphy explained. "All they saw were legs propped up and the baby and they said, 'Ok we gotta go.' The female officer was the first one to approach the car and once she saw the blood and saw the baby she said, 'It's time to go.'"
Officers Maraea Toomalatai and Bryan Armendariz helped safely escort the proud parents the rest of the way to Dignity Health California Medical Center where baby Messiah Tindley weighed in at a healthy 7 pounds and 10 ounces, ABC TV reports.