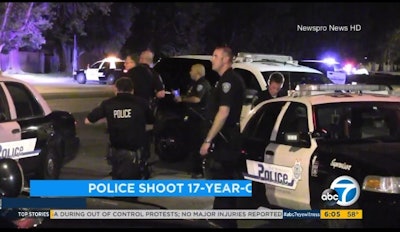 VIDEO: California Officers Ambushed in Unmarked Vehicle, Suspect Wounded in Gunfight
In what police are calling an ambush attack, gunfire disabled a police vehicle in San Bernardino Thursday night, but the officers were unhurt and returned fire, police said.
Officers estimated that about 10 shots were fired at them at about 8:45 p.m. near the Terrace Motel along Foothill Boulevard near Meridian Avenue, near the city's border with Rialto.
The officers were in an unmarked vehicle in an alley, Lt. Rich Lawhead told the San Bernardino Sun. They exited the vehicle to return fire.
"They ran in a southbound direction to a wall of a motel called the Terrace Hotel. They then ran through the parking lot of the Terrace Hotel and out here onto Foothill where they encountered two of our officers," Lawhead said.
An officer fired on one of the men, hitting him, while another suspected gunman tried to enter into a motel room, Lawhead said. He was taken into custody. A third man was later found in a nearby mobile home park.
The wounded suspect, 17, was hit in the abdomen, ABC 7 reports. He is reportedly in stable condition.