VIDEO: Suspect Stabs, Beats New Mexico K-9 Unconscious
An Albuquerque man attacked a Bernalillo County Sheriff's Office police dog Monday, repeatedly stabbing the dog in the back before knocking him out with a baseball bat, according to authorities.
Rex, a 6-year-old Belgian Malinois, was in emergency surgery Monday after Bernalillo County (NM) Sheriff's Office deputies say he was seriously wounded trying to help deputies take a violent suspect into custody earlier this morning, reports the Albuquerque Journal.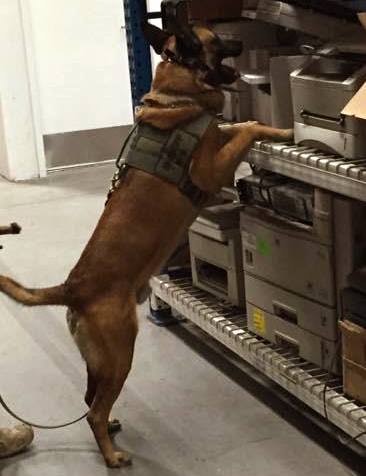 The suspect, 22-year-old Oscar M. Valadez, was eventually arrested and now faces a slew of felony charges, including extreme animal cruelty.
BCSO spokesman Johann Jareno said deputies were called to a fight between two brothers at a home around 3 a.m. Valadez had allegedly threatened his brother with a knife at an apartment there.
When deputies arrived, Valadez tried to leave and deputies cornered him by setting up a perimeter, Jareno said. That's when they noticed he was wielding a knife and a baseball bat, which he refused to drop.
Deputies sent Rex in to try to take Valadez into custody, and Valadez attacked the K-9 before attempting to cut his own throat with the knife, Jareno said. Deputies were able to use a Taser on Valadez and take him into custody, Jareno said.
The vet said Rex didn't have any broken bones, but needed surgery for the stab wounds.