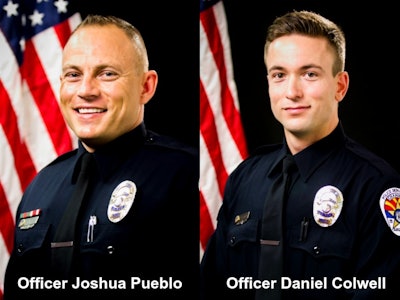 After what Chandler, AZ, police are saying looks like an "ambush" on police, an officer remains hospitalized and is preparing to undergo a second surgery, reports ABC 15 Arizona.
According to the Chandler Police Department, two officers were shot by a suspect at a Walmart on Saturday morning. The suspect, Mitchell Oakley, 24, opened fire on two officers multiple times and injured both.
One officer has been released from the hospital and is recovering at home with family. A second officer is still hospitalized and will undergo a second surgery in the next few days, officials said.
Police say crews were called out at 6:20 a.m. when Oakley, a transient, trespassed on store premises.
Two officers were called out to respond and when the first officer arrived, witnesses saw Oakley fire at the officer. Chandler police said an "ambush" on the officer occurred and he was shot in the face.
A second officer responded to the scene and fired back at the suspect but was also shot by Oakley. Officials told ABC15 the second officer shot and killed Oakley.
The officers have now been identified as Officer Joshua Pueblo, 34, and Officer Daniel Colwell, 28, reports KPNX.
"When the first officer walked into the store, the suspect began firing at the officer immediately," Chandler police spokesman Det. Seth Tyler said. "You can call it what you want. It sounds like an ambush to me," reports the Arizona Republic.