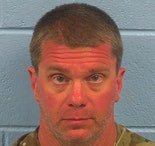 An Etowah County, AL, judge has dropped charges against a Rainbow City police officer who was arrested in January on sodomy charges.
District Judge Will Clay dismissed charges against Chase Jenkins, who resigned from Rainbow City police after his arrest.
Following the hearing, Jenkins' estranged wife Melisa Anne Jenkins, 42, was arrested on charges of perjury and falsely reporting an incident, AL.com reports.
According to court documents, the charges were dismissed after submission of documents by Jenkins' attorney and by the Etowah County District Attorney's Office. Jenkins previously held the rank of captain with the Rainbow City department.
In a statement through his attorney, Jenkins thanked his friends and supporters for their encouragement since his arrest. He said he intends on returning to his career in law enforcement, feeling the experience has made him "a better and more understanding police officer."