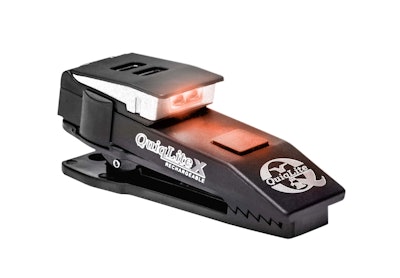 Invented by a police officer to increase convenience and safety on the job, the QuiqliteX Rechargeable Red/White Light is a hands-free, concealed LED light source designed to clip on the inside of your uniform's shirt pocket or attach to MOLLE.
Small and compact, the Red/White LED light preserves your night vision on tactical applications. A single on/off button, easily activated through your shirt pocket, operates three modes of operations; red LED night vision light, white LED light, and the flashing Red/White personal emergency strobe. For searching a crime or accident scene, the QuiqliteX also provides a "Power Boost" mode that increases the white light output from 10-lumen to a more powerful 75-lumen searchlight function.
The patented, full-featured rechargeable QuiqliteX LED light is like an emergency light kit in your pocket. Depending on the mode, the long-lasting rechargeable battery will retain its power for up to 11 hours of continuous use. In the emergency strobe mode, with its flashing, high-visibility Red/White LED beam, the light can run continuously for up to five hours. In the case of a disabled vehicle blocking road access, the light's magnetized clip will attach the strobe to the car's trunk to warn drivers of the hazardous obstruction. A flare adapter that enhances the strobe's visibility to more than a mile away is also included.
The incredibly compact QuiqliteX Rechargeable Red/White Light measures only 1 X 3 inches and includes both a built-in shirt pocket clip and a heavy-duty MOLLE clip adapter. To have the LED beam directed exactly where you need it, the light's body can rotate 360 degrees with an additional 160-degree up/down adjustment for the LED light arm. Using the included micro USB charging cable, the unit can be fully charged in about two hours and can be monitored by the charging indicator LED. To maximize battery power, the Red/White mode has a 10-minute automatic shutoff timer.
Manufactured with a combination of heavy-duty LEDs and rugged plastic and metal body components, the QuiqliteX Rechargeable Red/White is warranted for one year. The retail cost is $39.95.
QuiqLite Inc. is a progressive company founded by Brian Quittner, a 15-year California law enforcement veteran. QuiqLite was invented after recognizing the need for a hands-free concealed light source that could fit into a uniform shirt pocket for reading, writing, and maneuvering in the dark.