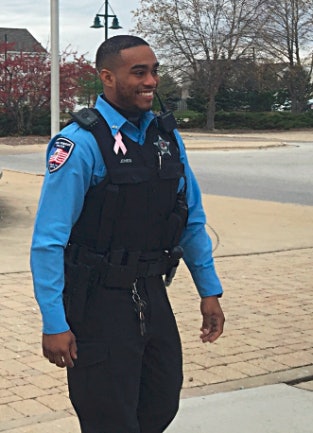 The Park Forest (IL) Police Department posted on its Facebook page Wednesday an encouraging update on the condition of Officer Timothy Jones, who was severely wounded investigating a break-in last month:
Officer Timothy Jones, who was critically wounded in the line-of-duty on Saturday, March 19, 2016 after suffering gunshot wounds while attempting to take a suspect into custody, has been released from the Intensive Care Unit of Advocate Christ Medical Center and has been transported to a rehabilitation center at an undisclosed location. Officer Jones is not on life support, and his condition has stabilized to allow transport to this new facility. He is minimally conscious, and while he has a very long road to recovery and his long-term prognosis is uncertain, the steps he has taken in less than three weeks after suffering such a devastating injury give cause for hope, and also demonstrate the strength and will with which he is fighting.
The Park Forest Police Department would like to thank the professional medical staff of Advocate Christ Medical Center for the excellent care of Tim while he was with them, the numerous law enforcement and other public safety agencies that have given support during this time, as well as the incredible outpouring of support from the community. Your continued prayers, concern, and support are greatly appreciated.
The photograph of Tim accompanying this post was taken in the fall of 2015, just as his career in law enforcement was beginning. In a short time, his work in uniform demonstrated enthusiasm, integrity, charisma, concern, and compassion. He is now demonstrating fight, strength and resiliency. We will continue to stand by Tim and his family through this journey, and will share updates as we are able, in coordination with the privacy naturally requested by the family. Thank you again, to everyone who has offered concern and well-wishes, in whatever form it has taken.
Related:
Video: Illinois Officer Critically Wounded Investigating Break-In