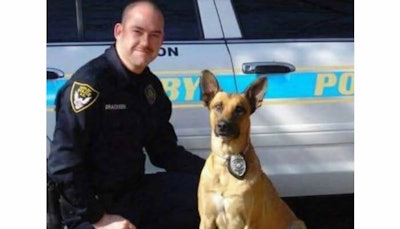 The reward now tops $25,000 for information leading to arrest of a suspect in the killing of a Shelby, NC, police officer.
Shelby Police Officer Tim Brackeen was attempting to serve a warrant for 23-year-old Irving Fenner, Jr. in the area of Parkview Street, when Fenner allegedly shot Brackeen in the torso early Saturday morning.
Officials say Brackeen passed away Monday morning at Carolinas Medical Center, in Charlotte.
It is with a heavy heart that I send this release," Shelby Police Chief Jeff Ledford wrote in a statement. "Today at 11:42am Officer Tim Brackeen passed away at Carolinas Medical Center in Charlotte due to the injuries he received from the shooting on Saturday, September 10, 2016."
Fenner is on the run and faces a charge of first-degree murder. Previously, he was wanted for armed robbery and kidnapping.
During a press conference shortly after Brackeen's death, Ledford said he believes authorities are closing in on Fenner, WDAM TV reports.