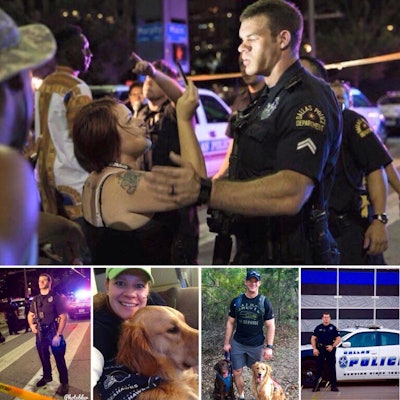 A Dallas police officer's plea to a Seattle Seahawks player is quickly going viral.
Officer Dan Russell posted an open letter today, after hearing that some players planned to sit during the National Anthem again on Sunday, which is 9/11.
In the letter (posted below), Russell, a native Washingtonian and life-long Seahawks fans, included photographs of himself on the job, as well some off-duty, with one photo showing him wearing a Seahawks t-shirt. The on-duty photos were taken the night of the ambush on Dallas police that left five officers dead,CBS DFW reports.
He directs his letter to quarterback Russell Wilson and includes an emotional plea:
"I humbly ask – I beg – that you do not sit down for The Star Spangled Banner on this coming Sunday, the 15th anniversary of 09/11/2001.
"To do so would be a slap in the face to millions of fans, millions of public Servants, millions of Americans, to 09/11 first responders, to the survivors, and to the families of all that were involved and impacted by that terrible day, most of all –
"To those 2,996 who fell in an act of hatred towards our country and all we stand for.
"You have so many avenues of making a stand, of letting your voice be one of compassion, reconciliation, and building rather than tearing down. You have shown that you are an inspiring leader, man of community, faith, family, and charity. You have a voice that will be heard.
"Please, use your voice in one of those other avenues – do not allow yourself to become one that succumbs to the sensationalism and misguided choices that are currently causing so much division in our country.
"Stand for The Star Spangled Banner.
"We who Serve will stand with you."