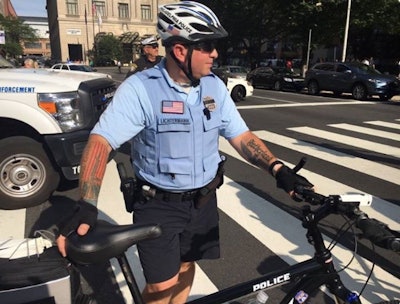 Mayor Jim Kenney on Thursday condemned a photo of a Philadelphia police officer with an apparent Nazi-style tattoo on his arm, saying the tattoo was "incredibly offensive" and not the sort of message police should be giving the community.
The Police Department also said its Internal Affairs unit would review the photo, which was circulated on Twitter Wednesday night by a woman who has posted many anti-police tweets. It showed a bike-patrol officer with a tattoo on his left forearm of an apparent spread-winged eagle resembling a symbol used by the Nazis, and above it the tattooed word "Fatherland" in Gothic letters, Philly.com reports. The eagle in the officer's tattoo does not have a swastika and the term "fatherland" was used in Germany before the Nazis and is still part of the German national anthem. The officer involved is of German ancestry.
"The imagery on display in the tweet is disturbing," Kenney said in a statement, adding: "In this environment — in which open, honest dialogue between citizens and police is paramount — we need to be building trust, not offering messages or displaying images that destroy trust."
In a text message, John McNesby, president of Fraternal Order of Police Lodge 5, wrote of the photo: "I've seen it. It's an Eagle. Not a big deal."
"City not concerned neither are we," McNesby wrote before Kenney's statement. "I see people with panthers on their arm. Doesn't mean they are black panthers. People with crosses on arms doesn't mean they dislike any other religion."