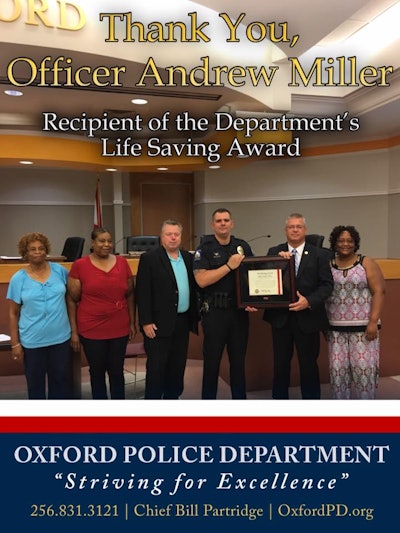 On Aug. 10, Oxford, AL, police Officer Andrew Miller walked into roll call at 6 p.m., then was immediately sent to a home on Eden Place in the Knoxville community, he said Tuesday.
"We were in the door and right back out the door," Miller told the Anniston Star, turning over a clear plastic case in his hand, a red pin with a gold cross inside. "It came out as a basic shots-fired call. We didn't know what it was we were going into. On the way we got more information that people had actually been shot."
When Miller arrived, he said, he discovered Sirita Spell on her front lawn, a gunshot wound in each leg. Miller pulled the tourniquet from his belt and another from a medical kit and put one each on Spell's legs just above the gunshot wounds, he said, a decision that ultimately allowed her to make it to UAB Hospital without dying of blood loss.
Miller on Tuesday stood before the Oxford City Council, Oxford residents and several fellow officers as Oxford police Chief Bill Partridge bestowed the city's Life Saving Commendation upon him for his quick thinking. It is the first time the award has been given to an Oxford officer in the nine years Partridge has been chief, he said by phone last week.