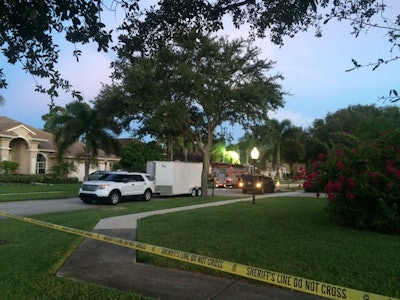 The Martin County (FL) Sheriff's Office is trying to piece together an extremely gruesome and violent attack on a married couple at a home near Tequesta, FL, reports WPEC.
Authorities say the suspect is 19-year-old Florida State University student Austin Harrouff. The victims have been identified as 59-year-old John Joseph Stevens III and 53-year-old Michelle Karen Mishcon.
Deputies were called to the 9000 block of Kokomo Lane around 9:20 p.m. Tuesday in reference to a stabbing.
Sheriff William Snyder said the caller, a neighbor, had been stabbed after trying to intervene and stop the violent attack between the teen and Stevens.
When the first deputy arrived, she found Harrouff on top of the male victim (Stevens) who was lying in the driveway of the home. The sheriff said Harrouff was biting the victim on the face, removing the victim's flesh with his teeth.
It took multiple deputies, use of a stun gun, and a K-9 to pry Harrouff off of Stevens. Sheriff Snyder said Harrouff was "grunting and growling," and "making animal noises."
John Joseph Stevens III was pronounced dead at the scene. His wife, Michelle Karen Mishcon, was found dead inside of the home's garage, the sheriff said.
Fisher, the Good Samaritan who called 911 and tried rescuing Stevens from the violent attack, was airlifted to St. Mary's Trauma Center where he underwent emergency surgery for multiple stab wounds to the upper part of his body, family members said.
The motive of the attack remains under investigation. Sheriff Snyder is calling the attack random and says it may have been brought on by drugs. Medical Staff are testing Harrouff for drugs including bath salts, spice, and flakka.