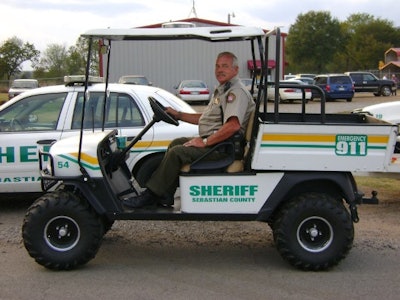 One of two law enforcement officers shot while responding to a call in western Arkansas has died, Gov. Asa Hutchinson confirmed Wednesday afternoon.
Sebastian County sheriff's deputy Corporal Bill Cooper and Hackett Police Chief Darrell Spells were hit shortly before 7:20 a.m. outside a home in the 4700 block of Arkansas 253, according to authorities.
In a statement shortly before 3 p.m., Hutchinson said Cooper died of injuries sustained in the shooting, offering condolences to his family and the law enforcement community, reports the Arkansas Democrat-Gazette.
Spells was released from a local hospital later in the morning and is expected to be fine, a Hackett Police Department spokesman said.
Information released by the Sebastian County Prosecuting Attorney's Office states that Deputy Cooper was shot in the head and Chief Spells was shot in the leg, reports Arkansas Matters. KFSM 5 News reported that a K-9 that was inside a car when the incident began was shot and ran away from the scene. The police dog, K-9 Kina of the Greenwood (AR) Police Department, had not yet been found as of late Wednesday afternoon.
Pevehouse told the Arkansas Democrat-Gazette that the two were hit while responding to an unspecified call for service. He said the shooter, identified as 34-year-old Billy Jones, then barricaded himself in the residence for several hours.
Sheriff Bill Hollenbeck said Jones wanted to cause a "ruckus" ahead of a court appearance to determine whether a previous suspended sentence should be revoked.
Authorities said the injured officers went to the home, about 6 miles from the Oklahoma border, after Jones pointed a weapon at his father, who called 911.
Law enforcement surrounded the home and the SWAT team was on scene as authorities attempted to communicate with Jones throughout the morning. He was taken into custody around noon.
Related: