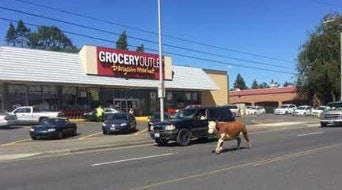 A Longview, WA, patrol officer was taken to the hospital Tuesday after an angry cow ran over him.
The cow escaped from the Cowlitz County Fairgrounds at about 3:30 p.m. and took itself for a walk through Longview. At one point, the cow was in the slough near Pacific Way and Pershing Way, said Mike Berndt, patrol officer with Longview Police Department.
Berndt said the cow became frightened and eventually angry. The farm animal, which Berndt estimated weighed about 800 pounds, charged out of the slough and ran over one of the officers. Berndt said the officer suffered a leg injury.
At that point, Berndt said the cow took off running. During the hour-long frenzy, it also ran over its owner, dented several Longview patrol vehicles and ran into two civilian cars.
"Couldn't control the animal," Berndt told TDN.com.