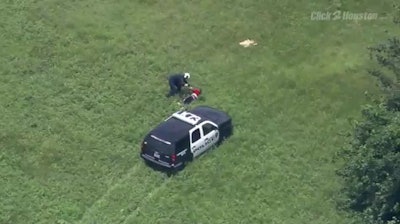 A chase ended with a Houston police helicopter crew member taking down a burglary suspect in north Houston right after he was run over by a police vehicle, reports click2houston.
Police received a burglary call at a residence and when police responded, two suspects drove off, then stopped and ran from the vehicle.
One suspect ran into an open field with a Houston PD SUV chasing him, when the vehicle hit him, sideswiping him. The man got back up and ran off.
The Houston PD helicopter landed nearby and a crew member wearing a helmet then ran up to and tackled the man.
Other Houston PD officers arrived and took the man into custody. The second suspect was arrested at the scene where the chase ended.