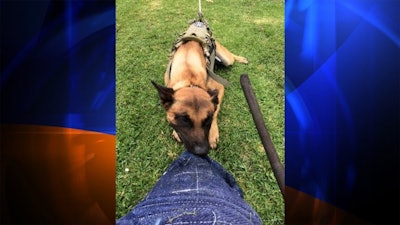 A police dog died after an officer-involved shooting in Long Beach, CA, Tuesday morning, officials said.
Long Beach police officers were in the 2800 block of East 15th Street about 9 a.m. investigating a man wanted in connection with an assault with a deadly weapon case, reports KTLA.
Police surrounded an apartment complex in the area and a shooting occurred, police spokeswoman Sgt. Cynthia Arrona said.
No other officers were injured, but a K-9 named Credo, a Belgian Malinois , was taken to Signal Hill Pet Hospital with injuries and later died. It is unclear how the dog was injured during the incident.
In a series of tweets, the Long Beach Police Department announced Credo's death and thanked him for his service to the department and community.
The suspect, who has not been identified, was shot and taken to a hospital in unknown condition. Police don't believe any other suspects were involved but remained at the scene into the afternoon.