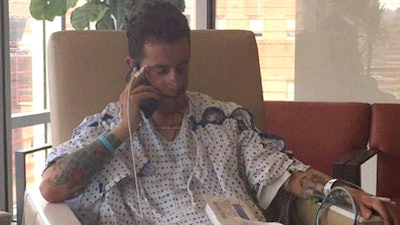 Country Music Star Kenny Chesney owed a suburban Philadelphia police officer a huge apology after mistakenly announcing at his concert Saturday night that he had died.
The country music singer told thousands of fans at Lincoln Financial Field, where he was performing, that Folcroft Borough Police Officer Christopher Dorman, who was shot seven times in the line of duty, had died.
Dorman, 25, a huge fan of Chesney, had planned to attend the concert, but instead found himself in a local hospital recovering. In a recorded video message he told Chesney ahead of the concert "don't forget me."
The Folcroft police department immediately took to Facebook to correct the singer, Yahoo.com reports.
Chesney called Dorman Sunday to apologize while the officer recovered at Penn Presbyterian Medical Center. He also offered to take Dorman to a football game and buy the beer.
Related:
Video: Pennsylvania Officer Shot Seven Times Friday to be Released from Hospital
Video: Pennsylvania Officer Shot Multiple Times, Suspect in Custody