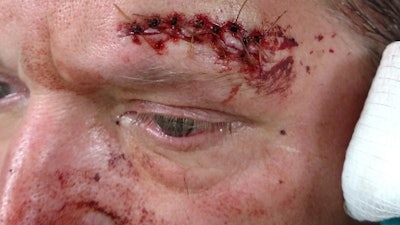 A Seattle police officer who was hit in the head with a slab of concrete during this year's May Day protest downtown has indicated that he intends to sue the City of Seattle.
According to the claim for damages, which was released by Officer Kerry Zieger's attorney, the department failed to outfit him with proper protective equipment and they did not issue a proper dispersal order once violence broke out.
Nine people were arrested and five officers were hurt during this year's May Day protests, KOMO News reports.
"Kerry Zieger followed orders to intervene without the right gear out of a sense of duty, but his serious head injury is the consequence of the City's failures to maintain proper equipment," his lawyer Erica Shelly Nelson wrote in a news release.
Zieger's attorney said he was attempting to protect himself when a protester "launched a large chunk of concrete and it forcefully struck him on his forehead."
"Officer Zieger suffered a serious forehead injury, requiring him to take over a month off work, and resulting in residual symptoms, including forehead numbness, head pain, throbbing, and headaches," Nelson wrote.
Zieger's lawyer has 60 days to file a formal lawsuit. The claim for damages does not say how much Zieger is seeking in damages.