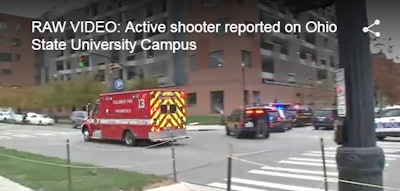 A man plowed his car into a group of pedestrians at Ohio State University and then got out and began stabbing people with a butcher knife Monday morning before he was shot to death by a police officer, authorities said.
Nine people were hurt, one critically, and police said they were investigating the possibility it was a terrorist attack. The FBI and other agencies joined the investigation.
Ohio State Police Chief Craig Stone said that the assailant deliberately drove over a curb outside a classroom building, got out of the vehicle, and began to cut people in a crowd with a butcher knife. A police officer who was nearby because of a gas leak arrived on the scene and shot the driver in less than a minute.
"A police officer was on the scene within a minute and killed the assailant. He engaged the suspect and eliminated the threat," Stone said.
A U.S. official has identified the suspect in the Ohio State attack that injured nine people as Abdul Razak Ali Artan, a U.S. legal resident of Somali descent.
Columbus fire officials told NBC4 nine people were transported to local hospitals, and all nine victims have non-life-threatening injuries. The patients were split among OSU Wexner Medical Center, OhioHealth Grant Medical Center, and OhioHealth Riverside Methodist Hospital.
At least two people were being treated for stab wounds, four were injured by the car, and two others were being treated for cuts, university officials said.
Campus remains open during the continued investigation, although classes have been canceled for the remainder of the day.