VIDEO: FL Deputy Killed After Being Hit By Car While Chasing Suspect
Nassau County, FL, Deputy Eric Oliver was fatally struck by a vehicle on A1A in Yulee while chasing a suspect in the line of duty, reports First Coast News.
Sheriff Leeper paused with emotion as he explained how Deputy Eric Oliver, 32, a seven-year veteran of the force, was hit by a vehicle while he was in pursuit of a suspect. He was pronounced dead on scene.
According to Leeper, there were Border Patrol Agents at the Gate Gas Station on A1A near Chester Rd. who were interviewing six people in a pick-up truck. Deputies with Nassau County were at the gas station on an unrelated call and were asked to stay to assist.
One of the six people in the truck fled on foot and two deputies chased after him across A1A. One deputy made it to the median but Oliver was struck by a vehicle.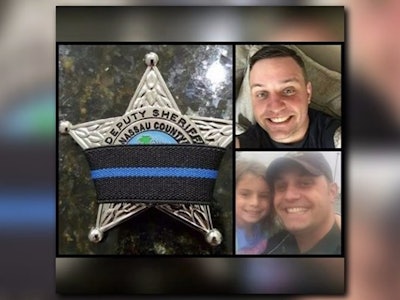 FHP is investigating, but Leeper explained the incident as a tragic accident. The suspect is still at large and is vaguely described as a Hispanic male, 5'6", 150 pounds, wearing a grey tank top, dark jeans, and black sneakers. Nassau Emergency Management has stated that there is an active manhunt in the area.
Oliver is survived by his wife and their 6-year-old daughter.