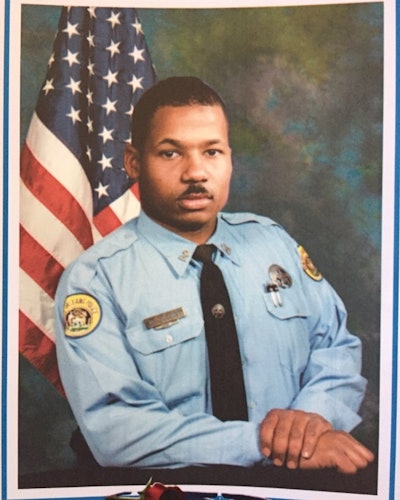 The New Orleans Police Department on Wednesday buried an officer who survived a crash on the job more than 15 years ago.
Officer Jude Williams Lewis, a U.S. Army veteran, was buried with full military and police honors, and his relatives said his death felt like a second loss.
"The day that the crash happened it was devastating for the entire family," Lewis' youngest sister, Denise Lewis-Crawford, told WDSU TV.
She still remembers vividly the night of June 1, 2001, when her brother's police cruiser was wrapped around a tree after he lost control while chasing a suspect. Lewis suffered a traumatic brain injury and fell into a coma for six months.
On November 8, 15 years, five months and seven days after the crash, Lewis slipped away, leaving the family that faithfully cared for him to mourn another loss.
Lewis enlisted in the U.S. Army shortly after high school and served in Desert Storm. He was stationed in Kitzingen, Germany, and was active duty until 1994. He then enlisted in the Army National Guard Reserve and was stationed in New Orleans until 1999.
In September of 1998, Lewis joined the New Orleans Police Department, or NOPD. Three years later, he was involved in the crash that forever changed his life.