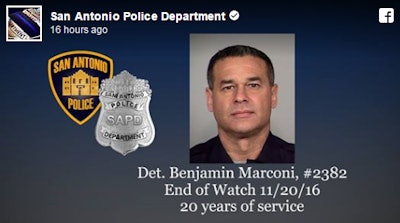 A San Antonio police officer was shot and killed ambush style during a traffic stop Sunday morning in front of police headquarters.
In a press conference Sunday, SAPD Chief William McManus confirmed that Detective Benjamin Marconi, 50, was the officer who was killed during a traffic stop on Sunday.
McManus said Marconi, a 20-year veteran of the force, pulled over a vehicle outside of the Public Safety Headquarters. While he was inside his vehicle writing a ticket, a black vehicle pulled up behind him.
The driver of that vehicle got out, walked up to Marconi's driver-side window and shot him in the head, McManus said.
Then the suspect reached into the window and shot Marconi a second time, he said.
The suspect then got back in his car and pulled away. Police believe the suspect's vehicle was a 2009-2015 black Mitsubishi Galant with custom rims.
The suspect is a bearded black male around five-foot-seven to six feet in height, wearing a gray sweatshirt and black baggy pants.
Until further notice, SAPD officers won't conduct traffic stops alone. They must have cover, said McManus in the press conference, KENS TV reports.