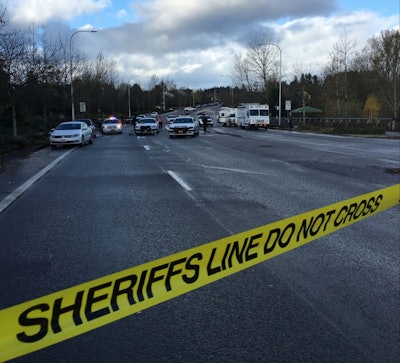 A sheriff's deputy was shot in the leg and a man was injured after a shooting Tuesday morning in Happy Valley, the Clackamas County Sheriff's Office said.
The deputy responded after Steven W. Wilson, a pedestrian, was struck by a vehicle at Southeast Sunnyside Road and 139th Avenue, said sheriff's office spokesman Sgt. Brian Jensen. The deputy and Wilson then got into an altercation, Jensen said.
Shots were fired, striking the deputy in the leg, Jensen said. The sheriff's office does not know who fired the shots or how many were fired, Jensen said.
Wilson, a 40-year-old from Portland, was also injured, though it is unclear how. His condition is unknown. He is currently being treated at OHSU, Jenson said.
A civilian was on a ride-along with the deputy and came to his aid, Jensen said. Another person passing by also stopped to help, he said.
The deputy, who patrols Happy Valley under a sheriff's office contract with the city, was taken to a local hospital, Jensen said. The deputy's injuries are not life-threatening and he is in stable condition, reports the Oregonian.