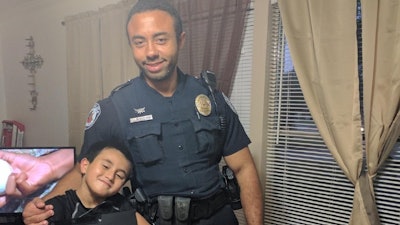 Aidan Munro, 9, was feeling pretty low after a burglar broke into his family's house and stole his prize possessions: His Xbox and all his games. The thief also stole all the Xbox accessories – and even the TV. It was a crushing blow for a little boy getting ready to celebrate his tenth birthday.
Enter Officer Brandon Smith, a three-year veteran of the Seguin (TX) Police Department. After investigating the burglary and seeing Aidan's obvious disappointment, Officer Smith went back to his own home, retrieved his own PS3 game system, controllers and games, and then went and purchased Aidan's favorite game (Minecraft).
Aidan's mom Jessica said, "Officer Smith is caring, selfless and sweet."
When Officer Smith delivered the gifts, Aidan was ecstatic and extremely grateful.