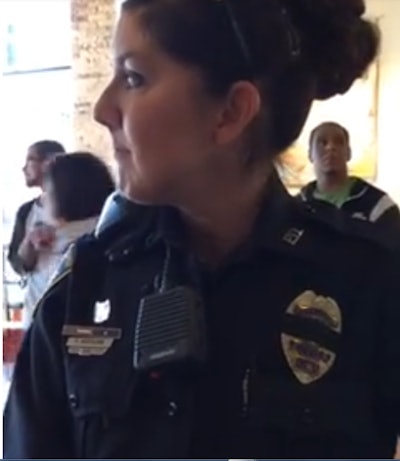 A woman live-streamed herself harassing police officers at a Cedar Rapids, IA, cafe on Nov. 6, just days after two Des Moines officers were ambushed and killed while sitting in their squad cars.
In the video, the woman later identified as Melyssa Jo Kelly is standing in Brewhemia cafe and mentions the black band around the officer's badge, WHO TV reports.
Kelly begins the video by pointing out the female officer's badge, and alludes to the police-involved shooting of Jerime "Danky" Mitchell, a 37-year-old who was shot by a Cedar Rapids officer on Nov. 2nd following a traffic stop.
"She doesn't give a s**t about the man who is in critical care at the University of Iowa Hospitals and Clinics with a bullet in his neck from one of the wonderful and vicious thug brothers in blue," said Kelly.