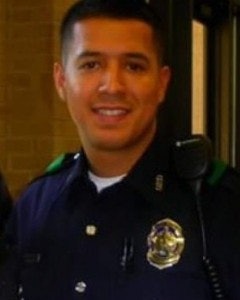 The father of one of the five police officers slain in the July 7th downtown Dallas ambush is suing Black Lives Matter and a number of other groups and people for his death.
Enrique Zamarippa's civil lawsuit on behalf of his son Officer Patrick Zamarripa blames the group in addition to: Louis Farrakhan, the Nation of Islam, Al Sharpton, National Action Network, Rashad Turner, Opal Tometi, Patrisse Cullors, Alicia Garza, Deray McKesson, Johnetta Elzie, New Black Panthers Party, Malik Zulu Shabazz and George Soros for his death.
The lawsuit claims sniper Micah Johnson was acting as an agent of the above mentioned groups and people when he opened fire on police, CBS News reports.
Zamarripa is seeking damages of up to $550 million.