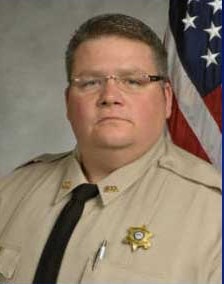 Peach County (GA) sheriff's deputy Daryl Smallwood who was critically injured during a shootout has died. He is the second deputy killed in this incident.
Both Smallwood and Sergeant Patrick Sondron, who died Sunday, were shot while responding to a complaint, according to agents with the Georgia Bureau of Investigation.
Investigators said the shooting suspect is the father of a deputy from Jones County. There was a "thin blue line" symbol on the suspect's mailbox, WTVM reports.
According to authorities, 911 dispatchers received a call around 5:30 p.m. Sunday in reference to a dispute among neighbors on Hardison Road, just west of Byron. Two neighbors complained that another neighbor, 57-year-old Ralph Stanley Elrod, came out threatening them with a gun while they were riding an ATV and a motorcycle.
Two responding deputies interviewed the complaining neighbors. As they arrived at Elrod's property, he spoke with them briefly outside before opening fire, according to the GBI. Special Agent in Charge J.T. Ricketson said Elrod's home surveillance camera captured him drawing a handgun he had concealed on him and shooting the two deputies when one approached him to take him into custody.
Elrod has been charged with murder.