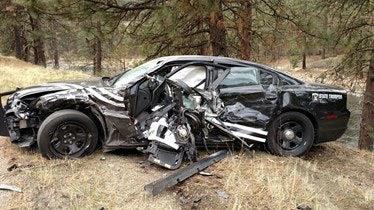 An Idaho State Police trooper was injured in a crash while escorting the U.S. Capitol Christmas Tree from Valley County to Boise Sunday afternoon.
The crash happened at about 12:20 p.m. on Idaho 55, just south of Banks.
According to ISP, Trooper Brandalyn Crapo was leading the official escort when a Dodge pickup truck crossed the center line and collided with Crapo's patrol car.
Crapo was flown to Saint Alphonsus Regional Medical Center in Boise where she was treated for minor injuries, KTVB reports.