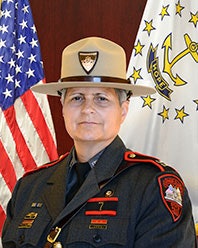 A woman will lead the Rhode Island State Police for the first time, reports the Associated Press.
Ann Assumpico, a state police captain, was appointed colonel Thursday by Democratic Gov. Gina Raimondo. Assumpico becomes the 13th superintendent of the state police and also becomes the first woman to lead any police agency in Rhode Island. She succeeds Steven O'Donnell, who retired in September.
Raimondo also announced a plan for legislation to remove some of the responsibilities of the position and create a new cabinet-level position of director of public safety. The Department of Public Safety includes the state police, as well as the state fire marshal, capitol police, sheriffs and other agencies. Previously, the state police superintendent oversaw those agencies as Commissioner of the Department of Public Safety.
Assumpico, 59, was a member of O'Donnell's command staff and had overseen the Rhode Island State Police Training Academy and the Rhode Island Municipal Police Academy. She has spent nearly 40 years in law enforcement, 24 of those with the state police.
"We already have a stellar reputation, a storied tradition of excellence," Assumpico said during a Statehouse ceremony to introduce her. "Let's open more doors and build on our strengths."