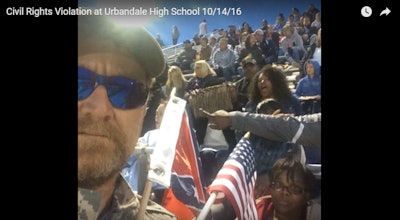 The man named as a suspect in the early Wednesday morning ambush murders of an Urbandale (IA) police officer and a Des Moines police officer is reportedly known to officers.
Scott Greene, 46, of Urbandale, is being sought in connection with the fatal shootings early Wednesday morning.
Greene has a lengthy criminal record including arrests for assault and more recently had a run-in with Urbandale police at a local high school football game. Two YouTube videos from an account reportedly owned by Greene show him at an Urbandale High School football game on October 14th — claiming his civil rights were violated when he was asked to leave the school's property for displaying a Confederate flag while in the stands.